Oinion | Sophie Jones, Communications and Learning Manager, Building with Nature > As world leaders convene for COP27, dubbed "the implementation COP", many planners and developers across the UK are working to deliver a local response to the climate emergency. Building with Nature are supporting local authorities and industry in utilising green infrastructure (GI) to deliver on climate commitments.
On Tuesday 8 November Building with Nature are speaking at the Local Government Association event "Pass the Planet: showcasing local climate action on the COP27 goals", exploring the role of high-quality GI in delivering climate adaptation through the Langarth Garden Village and Cornwall Council Design Guide case studies.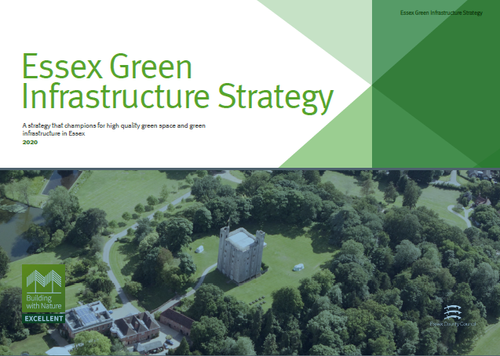 The Building with Nature Standards Framework is being used by local authorities across the UK to define and require high-quality GI through policy-making and development, offering a positive local response to the climate and ecological emergencies. To gain independent verification that policies required high-quality GI, a number of local authorities have gone on to achieve a BwN Policy Award, including West Dunbartonshire's Local Plan 2, Cornwall Council's Design Guide and Cotswold District Council's Green Infrastructure strategy.
The value of GI as critical infrastructure can be understood through the lens of the COP27 goals: Mitigation, Adaptation, Finance and Collaboration:
Mitigation: GI provides carbon sequestration, supporting Net Zero strategies and encourages climate positive behaviours, for example active travel, by providing safe, convenient green travel routes. GI also can provide urban cooling, for example through increasing tree cover.
Adaptation: GI features such asSustainable Drainage Systems can provide adaptive solutions, managing water effectively to reduce flooding and drought, and slowing the flow of water into the drainage system.
Finance: High-quality GI is relatively inexpensive to deliver, if considered from early on in the design process. Local authorities that are engaging proactively with developers to require high-quality GI are improving delivery and ensure GI is managed and maintained effectively. And developers are increasingly keen to deliver better quality GI as policy requirements, such as Biodiversity Net Gain, are driving a new approach to landscape design.
Collaboration: GI has multiple stackable benefits that can attract a range of stakeholders to engage in collaborative projects to deliver on diverse outcomes around, climate, wellbeing, water, and wildlife. For example Glasgow City Council worked with Southside Housing Association and a number of other stakeholders to deliver a GI retrofit to Queensland Court and Gardens in Cardonald, Glasgow.
Building with Nature are enabling positive local responses to the climate crisis that offer local authorities real solutions to the huge challenges presented by the climate and ecological emergencies.
https://greeninfrastructureweek.com/wp-content/uploads/2022/11/Cornwall-Council-credit.jpg
481
1249
Shawn Coles
https://greeninfrastructureweek.com/wp-content/uploads/2023/03/Energy-Security-Week-with-2023-dates-1030x313.jpg
Shawn Coles
2022-11-11 10:06:38
2022-11-11 10:13:20
High-quality green infrastructure is critical to delivering COP27 goals