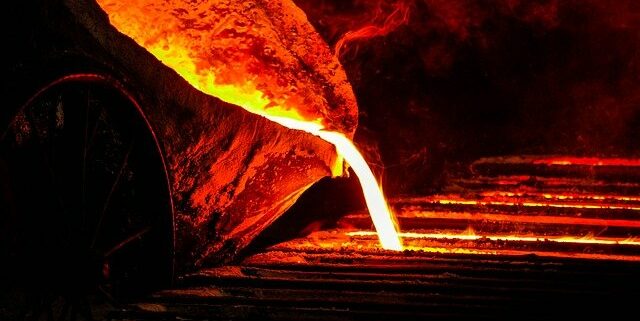 By Hugh Falkner of UK Research and Innovation > > Our foundation industries produce materials such as metals, glass, paper, cement, ceramics and chemicals. Often taken for granted, they provide much of the essential feedstock to the sectors that support our way of life – including construction, aerospace, automotive or packaging. These foundation industries employ half a million people and account for around £50 billion of economic value (gross value added, GVA).
These materials cannot realistically be replaced as part of the economy before 2050, and indeed are unlikely to be even within our children's lifetimes. So, as we move ever more rapidly towards both a net zero carbon and sustainable future, it is therefore imperative that these materials are produced in a more environmentally sound, but commercially viable, manner. The Transforming Foundation Industries (TFI) challenge programme is designed to both stimulate and pull through the multi-sector innovations that are required to make this happen.
These industries have individually done much to improve their own performance in recent decades, but in some key areas it will take their combined efforts to meet these challenges. The TFI programme is therefore also designed to significantly increase the levels of cross-sector innovation being undertaken.
By 2024, TFI will have invested in over a hundred innovation projects on the way to meeting its objectives, and will have deployed £66 million of public funding and at least £83 million of private sector investment. The most recent opportunity to receive financial support is through the Investor Partnerships programme set up by Innovate UK across a number of sectors.
The Innovate UK Investor Partnerships programme
This programme is offering a package of public sector grant funding and aligned private equity investment to support early-stage R&D and accelerate the process of commercialisation. The concept was founded on evidence that businesses who secure both grants and equity tend to raise more money and achieve higher valuations than their counterparts who secured just one of the two.
Since the initial pilot, which focused on health & life sciences and infrastructure systems, further programmes have been launched including immersive technologies, precision medicine, plastic recycling, clean growth, quantum technologies and healthy ageing. In 12 investor partnership programmes launched between 2017/18 and 2020/21, Innovate UK has allocated budgets of £60m alongside indicated aligned investment of £110m. As at May 2021, £25.5m in grant funding has been awarded to 117 SMEs alongside £71m in aligned equity investment made or led by 19 investor partners. Over £220m in subsequent additional follow-on investment in the form of equity or convertible loans from investor partners or other investors has been raised by SMEs involved in these programmes (excluding one outlier raising a further £67m).
And it's working too. The interim evaluation, carried out by independent consultants SQW, confirmed the Innovate UK Investor Partnership programme pilot has played a fundamental role in enabling or accelerating early stage, very technical R&D which was deemed too risky/early stage for private investment alone. The pilot has accelerated access to finance, with a direct impact on projects' technological progression and on the businesses' development.
The Foundation Industry Investor Partnership programme
As part of this wider programme, the Investor Partnership opportunity for the foundation industries will have a total of £7m of grant funding available – and we are now introducing prospective companies to the five Investor partners appointed to this new programme:
HG Ventures
Clean Growth Fund
Midven Ltd
Speedinvest
Turquoise International
If you are seeking investment and have a significant R&D project in this sector or its supply chain, then you could be eligible to receive this business and project support. To find out more, read the scheme brochure and watch the launch event Transforming Foundation Industries – Investor Partnership Launch Event – KTN (ktn-uk.org). Applications will be considered on a regular basis until the final round closes on 10th November 2021.
UKRI is a proud partner of Net Zero Week 2021. Going net zero means a better business and a better environment for everyone. During #NetZeroWeek2021 you can access dozens of exclusive live webinars/podcasts; all free-to-attend.
See the confirmed live webinar programme taking place around Net Zero Week 2021 – many more events will be confirmed in the coming weeks.
To see the extensive UKRI programme of both live webinars and virtual exhibitions for Net Zero Week 2021 see https://greeninfrastructureweek.com/uk-research-and-innovation-smart-local-energy-systems-unlocking-net-zero-multiple-events/#/
https://greeninfrastructureweek.com/wp-content/uploads/2021/06/UKRI-steel-industry-pixabay-pic.jpg
425
640
Shawn Coles
https://greeninfrastructureweek.com/wp-content/uploads/2023/03/Energy-Security-Week-inter-1030x313.jpg
Shawn Coles
2021-06-30 19:34:57
2021-06-30 19:34:59
The foundation industry challenge with a spotlight on the investor partnership programme