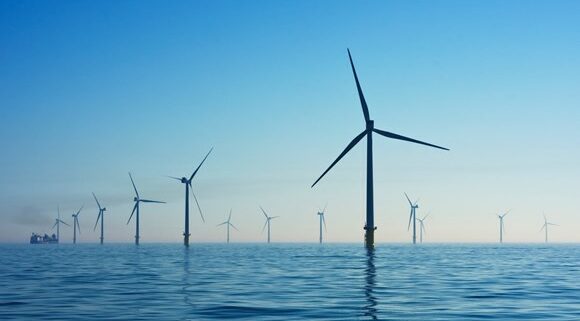 Renewable hydrogen produced by Britain's world-leading fleet of wind farms and stored in disused oil and gas fields can help avoid future winter energy supply crunches, new research published by Energy Networks Association (ENA) says today.
'A System For All Seasons' analyses Britain's electricity generation and consumption trends, concluding that the country's wind and solar farms will have enough spare electricity generated in spring and summer, when demand is lower, to produce green hydrogen to the equivalent capacity of 25 Hinkley Point C nuclear power plants.
The hydrogen stored would provide the same amount of energy needed for every person in the UK to charge a Tesla Model S electric vehicle more than 21 times, in the autumn and winter months when energy demand is highest, creating a clean energy buffer that avoids having to manage limited energy supplies on the international markets.
Crucially, the research finds that the UK has enough capacity to store the hydrogen in a combination of salt caverns and disused oil and gas fields in the North Sea, as well other locations, to meet this demand.
The research also finds that using renewable hydrogen will help reduce the total number of wind farms needed in 2050 by more than 75%, because it will ensure electricity generated by Britain's wind farms is used as efficiently as possible, by avoiding surplus electricity going to waste.
'A System For All Seasons' finds that:
Britain's wind and solar farms could generate between 60-80GW of renewable hydrogen – the equivalent capacity of 25 Hinkley Point C nuclear power plants – from spare renewable electricity generated in the spring and summer months, between May and October each year.
Running the energy system this way will reduce the need for the total electricity generating capacity of UK wind farms from 500-600GW by 2050 down to 140-190GW – a reduction of up to 76%.
It would mean Great Britain would be using spare renewable electricity that would otherwise go to waste to produce green hydrogen. Under the alternative scenario, additional wind farms would need to be built to accommodate for autumn and wind energy demand peaks but be left unused during other times of the year.
With 140-190GW of wind generation capacity, 115 to 140TWh of green hydrogen would be stored – enough energy for every person in the UK to charge a Tesla Model S more than 21 times.
The potential storage volume from Britain's salt fields ranges from >1TWh up to 30TWh. For disused oil and gas fields, the potential storage volume for individual sites ranges from ~1TWh up to 330TWh.
Commenting, Chris Train OBE, ENA Green Gas Champion, says:
"This research shows how green hydrogen can provide a clean energy bumper that can protect us from fluctuations on the international energy markets, 24 hours a day, 365 days a year – whatever the weather, come rain or sunshine.
"It will also allow us to get the most out of the energy infrastructure that is at the forefront of our renewable revolution, whilst ensuring that we have a net zero energy system that is truly a System For All Seasons."
End.
Green Infrastructure Week curates' content from the entire ecosystem around green infrastructure from government and NGOs to respected commentators.
Feel free to share this content with your social media community using #GreenInfrastructureWeek
During Green Infrastructure Week we will host a programme of live and exclusive free-to-attend webinars. Stay in touch with event updates by registering here.
https://greeninfrastructureweek.com/wp-content/uploads/2021/10/Renewable-hydrogen-offers-best-route-out-of-future-energy-supply-crunches-research-shows.jpg
376
580
Shawn Coles
https://greeninfrastructureweek.com/wp-content/uploads/2022/07/Green-Infrastructure-Week.png
Shawn Coles
2021-10-27 17:37:11
2021-10-27 17:37:12
Renewable hydrogen offers best route out of future energy supply crunches, research shows