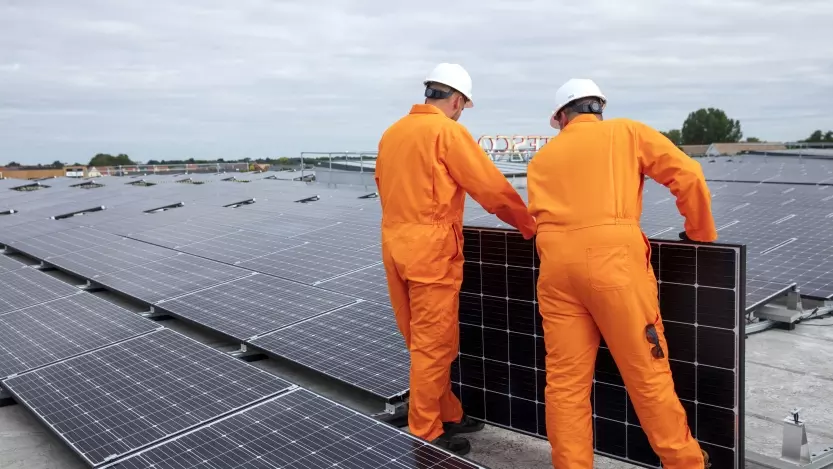 Could a Corporate PPA be the next step on your road to Net Zero?
By Adam Clarke, Senior Manager PPA and Sustainability Solutions, EDF | Putting Net Zero at the heart of business decisions is no longer a choice. It's a necessity. It's what investors are looking for. It's what customers are demanding. And ultimately, it'll pay dividends for your bottom line. 

The time to go Net Zero is now. But where do you start?
The opportunity is huge, but it can sometimes seem overwhelming to work out where to begin. Through our own experience, and by partnering with British businesses, generators and developers of all sizes, we've learnt that effective transformation cannot just happen overnight. Going Net Zero is best done one change at a time.
Energy powers every business activity. So, for any business, it's the ideal place to start on the journey to Net Zero.

Your next change
Taking control, with a smart approach to buying, using and managing your energy, can unlock real value for your business. Choosing a zero carbon supply option is a great first change and will have a positive impact on your business' sustainability credentials, allowing you to report zero carbon emissions for your electricity use.
Depending on your business' objectives, ambitions and capabilities there are a number of zero carbon options available.
If you're looking for an option that's quick and simple to agree, enabling you to purchase the volume you require over the short term, zero carbon supply backed by nuclear or renewable electricity could work for you. Both of these options allow you to report zero carbon emissions.
If your business is in a position to make a longer-term commitment, Corporate Power Purchase Agreements (CPPAs) provide an excellent option for showcasing credibility and authenticity in your commitment to zero carbon.

What is a CPPA and would it work for my business?
A CPPA is a direct contractual agreement between your business and a renewable energy generator. Your power would still come via the grid (there's no physical connection), but you are contracting with a named generator, enabling you to say that your energy is coming from a specific source.
CPPAs are more complex and long term than some businesses want for their energy supply. But, if you have long term demand certainty, are comfortable managing a little price risk and sustainability is a top priority for your business, this could be the ideal solution for you.
These contracts can be complex and lengthy to agree and are usually between 10 and 15 years in duration. This long-term commitment and direct investment into the financing of renewable projects provides unique opportunities and complications.

As one of Britain's largest offtakers of generating capacity, EDF has a wealth of experience in the PPA market, enabling us to help minimise this complexity. Our dedicated contract management team are on hand to manage contracts throughout their duration, ensuring the day-to-day operation of your contract is simple. And our trading team utilise their extensive experience to manage your consumption profile against any intermittency or change in demand. Depending on how certain your demand profile is, you may choose to sign a CPPA for all, or a proportion, of your business' consumption. Whichever option works best for your business, we can either make up any shortfall with electricity from other zero carbon sources or sell excess output on your behalf as required, allowing for flexibility in consumption.
Although the prospect of agreeing your energy price for a longer-term can be daunting, this approach to energy purchasing can also be a real advantage for mitigating price risk within your business. A CPPA allows long-term certainty on the price you will pay for your electricity, regardless of market movement.
Above all, CPPAs ensure high authenticity of carbon credentials. They give your business real credibility in your reporting, ensuring you meet the carbon requirements for your portfolio. A CPPA would allow your business to point to exactly where your power is coming from, so you can prove the source of your electricity to your stakeholders. And if you contract with a new asset that isn't built yet, you'll be striking sustainability gold – additionality. You'll be able to show that your business has been instrumental in bringing more renewable energy to the grid, having a real impact on emissions.

Ready to make a change?
Every business is different. And it's essential that you have a supply contract structure that suits you, so a CPPA doesn't work for everyone. But, although CPPAs are often more complex to arrange and require a longer-term approach to purchasing electricity, by signing a CPPA your business is making a real commitment to achieving Net Zero.
There's never been a more urgent time to take action and accelerate your journey to Net Zero.
Get in touch with us at LetsTalkPower@edfenergy.com to discuss whether a CPPA could work for your business.
End.
Going net zero means a better business and a better environment for everyone. During #NetZeroWeek2021 you can access dozens of exclusive live webinars/podcasts; all free-to-attend.
Register for the newsletter today and be the first to see the full live programme